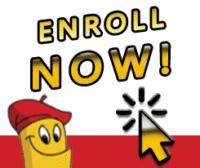 JUNE 8th to AUGUST 10th – 10 WEEKS*
*ONLY ENROLL IF YOU CAN KEEP THE SCHEDULED COURSE – NO MAKE UP CLASSES , CHANGES, OR REFUNDS FOR SUMMER COURSE
Classes are designed for students after school who do not live close to our studios. We can offer Virtual Courses Tuesday thru Saturday's for 10 weeks (meeting once per week) this year to Homeschooled , International Students, and anyone else across all 50 States in the United States. These courses are available and instructed as PRIVATE LESSONS (student is one and one with instructor) or GROUP LESSONS (enrollment of more than two students with instructor) These classes are "live" sessions with the instructor and interaction / communication is both ways , you will need a reliable High Speed Internet Connection and possibly additional software to participate. The cost for PRIVATE lessons is $400 per month / $1200 total course cost and the cost for GROUP LESSONS is $200 per month / $600 total course cost, billed to a credit card kept on file. All times are EST (Eastern Standard Time ) .
To check and verify all local times compared to EST in the world please click on
How to log on to our server for Virtual Courses –
VIRTUAL DRAWING COURSES :
Anime/Manga – Character Design – Comics and Cartooning – Foundational Drawing I – Foundational Drawing II – Storyboarding
VIRTUAL DIGITAL ANIMATION COURSES :
*Character Design in Photoshop – *Digital Painting & Illustration in Photoshop – *Digital Comic Books -*Digital Storyboarding for Animation –*2D Basic Animation – *2D & 3D Gaming Animation *3D Basic Animation
GIFT VOUCHER'S
GIFT VOUCHER'S ARE NOW AVAILABLE – Want to purchase a 2019 SUMMER CAMP or COURSE for a gift ? You can purchase any 2019 Summer Camps or Course and decide on which one later ! Learn from the best !
SMALL CLASSES + ENGAGING SUBJECTS+ FANTASTIC INSTRUCTORS
= A GREAT SUMMER !
MONDAY, JUNE 3RD THRU FRIDAY, AUGUST 9TH, 2019 – 10 WEEKS – ORLANDO & TAMPA
Buy Now and Choose a Summer Camp or Course Later
"Developing Young Minds Through the Art of Animation®"