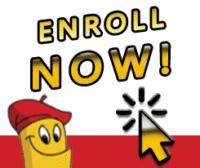 When does the next course start ?
We will be offering 2019 Fall Orlando Courses starting September 14th to November 16th – 10 weeks , choose your time from – 10 am to 12n , 12 n to 2 pm, 2 pm to 4 pm , and 4 pm to 6 pm.
I really want to take a course, but it already started. Can I still enroll ?
Yes, we accept late enrollments and we will pro-rate your tuition. After two classes have passed, you will then have to enroll next time when the course is offered.
Do you offer "make up" classes ?
We do not offer "make up" classes. Our instructors are scheduled specifically to have class at the time scheduled. We cannot accommodate because we have working Animation professionals who have other schedules and having a "make class" conflicts with their schedules.
Do you offer degrees like a college ?
We are a private vocational school, so we do not offer degrees. We can provide a certificate of completion from professionals who have worked in the Animation Industry . By definition, Vocational schools, sometimes referred to as career schools, provide practical training with few unrelated academic course requirements. The education offered at vocational schools allows children and adults to focus on the skills to enter a particular industry, with the option of not taking unrelated general education courses required for an associate's degree at a community college. Vocational schools also provide technology training or retraining for workers in their current occupations.
How much does a course cost ?
FOR MORE INFO CLICK
Do you also instruct Adults ?
Yes , we do all levels are welcomed.
Do you offer Multiple Student Discounts* ?
Yes, you can take 10 % or ( $75 ) for COURSES off your entire booking with a second child/adult enrollment. Please USE PROMO CODE : Multiple
*This offer does not apply to SUMMER CAMPS
Do you offer schloarship's for children ?
We do not directly.
How long is the course ?
Each course is 10 weeks
Do you work with Autistic Adult Students ?
We have a Training Program specifically for Adults diagnosed on the Autistic Spectrum.
Are there any additional fees ?
When you are a new student enrolling into Elite Animation Academy for the first time, you are charged a one time $ 50 non refundable enrollment fee. You do not qualify as a New Student if you have just taken one of our Summer Camps and the fee will be charged accordingly.
There is also a per session $25 supply fee charged per course.
Do I need to bring any supplies ?
No all the supplies are provided that is why we charge you a supply fee to help off set those costs.
Should I take a specific order of courses ?
Are you planning to to specialize in digital or traditional animation ? See Course Recommendations.
Do you help with portfolio development ?
We do help with portfolio development. We are proud of the fact that we have assisted several students with acceptance into major Art Schools such as SCAD, UCF, and Ringling School of Arts.
NEW STUDENT ENROLLMENT FORM
Please click on links below print, mail or e-mail back. Student may not attend Course or Summer Camp until we have the form on file.
MAIL TO :
Elite Animation Academy
8933 Conroy Windermere Road
Orlando, Florida 32835
EMAIL TO :
twest@eliteanimationacademy.com
QUESTIONS ? CALL US
Orlando – (407) 459-7959
"DEVELOPING YOUNG MINDS THROUGH THE ART OF ANIMATION®"